Physical Therapy
Pediatric Physical Therapist Services In Garner, NC
All of our Physical Therapists (PTs) and Physical Therapist Assistants (PTAs) have earned their Master's Degree or Bachelor's Degree and are licensed by the State of North Carolina Board of Physical Therapy.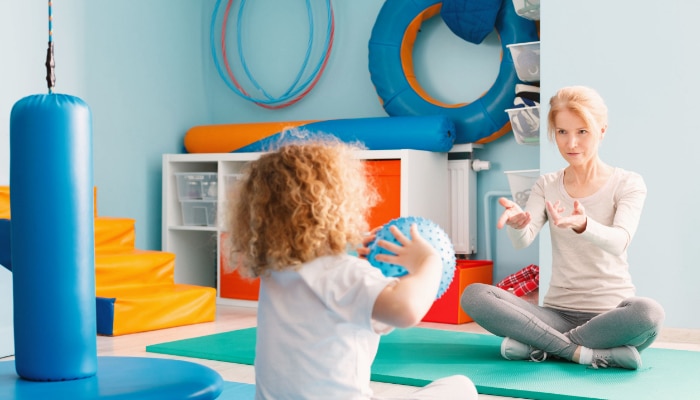 At "Now We're Talking" Pediatric Therapy, Inc., one of our focuses is on pediatric physical therapy. Our PTs and PTAs take a play-based approach to therapy progressing your child toward achieving functional independent mobility while tailoring therapy sessions to your child's specific needs. We will work with your child to help them achieve the highest possible level of motoric function so that they may fully engage within their environment.
Your child's needs may include delayed sitting, crawling, walking, frequent falling or toe walking. Your child may be recommended for physical therapy due to:
Genetic Disorders
Neurological Disorders
Orthopedic Issues
Developmental Delays
It is our goal to collaborate with caregivers and other disciplines to incorporate all developmental needs into an active and fun journey to independent gross motor freedom.
Therapy Through Play
Our physical therapists will help your child feel the joy of movement through play by working on strength, balance, coordination and endurance. We will work with your family as a team to progress your child through their motor milestones including rolling, crawling, pulling to stand and independent ambulation. Our physical therapists perform a range of motion, massage and stretching to those children with muscular tightness or high tone.
Adaptive & Medical Equipment
We can help your family in obtaining adaptive and medical equipment such as wheelchairs, positioning devices, walkers or standing frames. We can also assist you with obtaining braces for the trunk, lower extremities or feet/ankles, and helmets/bands for the head shape.
Thank you for visiting and learning more about our pediatric physical therapy clinic! We are located in Garner, NC and provide services at our office or in your home.