Speech Therapy
Pediatric Speech Language Pathologist Services In Garner, NC
Each one of our Speech Language Pathologists has earned their Master's Degree and holds a Certificate of Clinical Competence with the American Speech and Hearing Association (ASHA). In addition we are required to maintain a license in the state of North Carolina from the Board of Examiners for Speech Language Pathologist and Audiologist.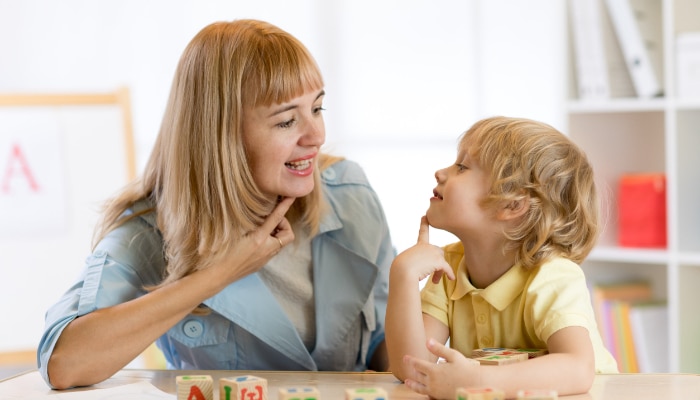 Our Speech Language Pathologists will help your child with their specific needs which could include:
Expressive Language - How a child expresses his or herself.
Receptive Language - How a child understands and processes what they hear.
Articulation - How a child produces speech sounds to be understood by others.
Pragmatics - How a child interacts with others socially.
Play Skills - How well a child interacts with toys is how they learn to interact with the world.
It is our goal to assist others who have become cut off from what so many of us take for granted; the power to communicate and function within the families and environments in which we live.
Feeding & Swallowing Therapy
In addition, our Speech Language Pathologists work with feeding and swallowing concerns. Feeding and swallowing therapy focuses on the ability to safely swallow food and liquid, as well as chew food properly. We work on oral motor function as it relates to swallowing, drinking and chewing.
Our Approach
We take a play-based approach to therapy. A child's work is play. It is through play that children learn about the world and themselves. We believe that the family is the most influential part of therapy. It is within the family and daily routines that goals can be put into practice 'for real'.
Therefore we encourage parents and caregivers to observe therapy sessions and carry over recommended strategies at home. We have limited time with your child and can teach a skill but you are with them the majority of the time and have the opportunity to practice those skills. Sometimes to help our children we have to change our own behavior as well as how we interact and play with them. Once we are able to understand them and think on their level we can then help them.
Thank you for visiting and learning more about our pediatric speech therapy clinic! We are located in Garner, NC and provide services at our office or in your home.
Some Areas of Expertise:
Pragmatics & Social Skills
Accent Modification
Voice Disorders
Apraxia
Augmentative/Alternative Communication (AAC)
Dysphagia
Behavioral Feeding Issues
Oral Motor dysfunction
Autism Spectrum Disorders
Down Syndrome
Language-Based Literacy Disorders
Articulation Disorders
Language Delays
Developmental Delay
Phonological Processing Disorders
Stuttering/Cluttering Disorders
Food Aversions
Extreme Picky Eating
Gastrointestinal Issues Related to Feeding & Swallowing
Genetic Disorders & Syndromes
Neurological Impairments
Medically Fragile Children
Craniofacial Anomalies